Resources
MAPS Business Training resources provide tools that will help you plan your goals and create systems that save time and expand your business. Find inspiration from others, tools and additional research that will help you overcome limiting beliefs, boost productivity and maximize sales.
Downloads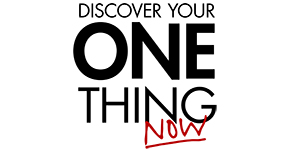 Discover Your ONE Thing
Three simple steps to uncover your purpose and realize your goals and start living a BIG life, both professionally and personally.
Figures and Graphs from The ONE Thing
One doc to rule them all! All the graphs and figures from the business book that's appeared on more than 100 bestseller lists.
The ONE Thing 411
Transfer your one-year GPS as well as any personal yearly goals to your 411. The 411 stands for four weeks, one month and one year.
Podcasts
Revolutionize Your Organizational Culture ONE Thing Concept at a Time!
Wednesday, March 11, 2015
Shon interviews Brent McCutchin, senior vice president of operations at One Source Networks on how he lives the ONE Thing on a daily basis.  What started out as an intriguing read in the airport has drastically changed the organizational culture at One Source Networks – a communications company that provides strategic networking and communications services on a global scale. 
The Jefferson Awards Finds a New Voice with The ONE Thing
Thursday, January 8, 2015
With a recent shift in mission – becoming the biggest multiplier of volunteerism nationwide – Frank McIntosh, COO of The Jefferson Awards, says the company stumbled onto The ONE Thing at the right time. Learn how having a common language proactively instituted the company's new business model. 
Roxanne Emmerich - The Gift Giver of Success and Significance
Wednesday, August 13, 2014
Roxanne Emmerich is one of the most sought-after workplace transformation experts AND public speakers in the United States. What makes her advice worth pursuing? Her focus on results and helping workplaces find what makes each team member tick. More importantly, how to make everyone tick together. Learn how to find purpose in your life as Shon and Roxanne uncover the six lies in the workplace and how easily they can sneak into your life when you are stuck in the wrong mindset.